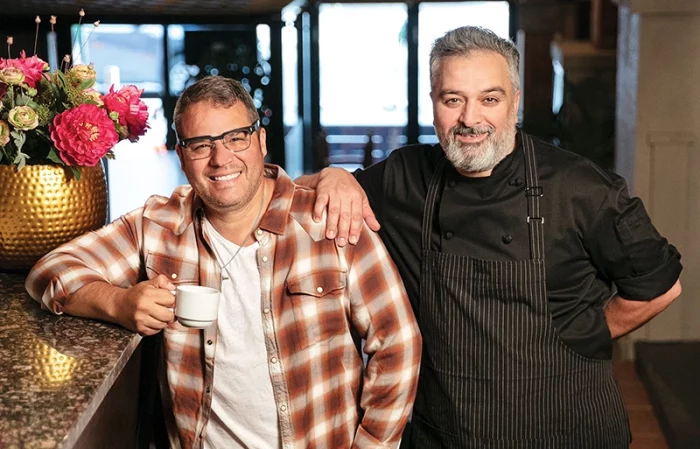 In 2008, childhood friends Christian Mena and Adelino Oliveira opened SABOR Restaurant with a vision—to highlight both their special talents and bring Edmonton an incredible dining experience using the freshest ingredients, old-world flavours, and a level of hospitality Edmonton yearned for. With warmth, passion, and dedication—Christian, Lino and the entire team at SABOR strive to provide service excellence and create a welcoming place to gather with friends and family.
Born in Chile and Portugal respectively, Christian and Lino spent their childhood growing up together in Edmonton's North End—a cultural melting pot. Surrounded by the food and music of family, friends, and neighbours—the duo started to plan their futures.
Christian started a singing career as lead singer of Latin-pop-funk band Maracujah!!, a local favourite, before moving on to his role as Roger opposite Neil Patrick Harris's Mark in a touring performance of Rent in the late 1990s. With stardom on the horizon, Christian realised home was where his heart was—and headed back to Edmonton.
Inspired by his parents' heritage and love for food, Lino and his wife Debbie moved to Portugal in 1993 to open a restaurant on the country's north coast. By learning from local fishermen and delving into the treasured recipes of his family, Chef Lino created his own special technique that marries the Iberian flavours of Spain and Portugal with a focus on hand-selected seafood.
In 2007, with the downturn in the European economy and some urging from Christian, Lino and Debbie returned to Edmonton with over a decade of experience in Portugal under their belts. Soon, planning was underway to open a restaurant fueled by their combined passions for food and music—the result was their lifelong dream come true, SABOR.
Featuring the flavours of Iberian coastal cuisine using sustainable seafood—served alongside the passion and energy of live music with a Latin flare—SABOR brings its guests into the hearts of the two friends who worked together to build a dream.